2022
The Return!
After a couple years of pandemic induced hiatus, the Golden State Pinball Festival makes its triumphant return. Same great show with all the same old friends!
This year also marks the first Stern Pro Circuit event status for our annual pinball tournament!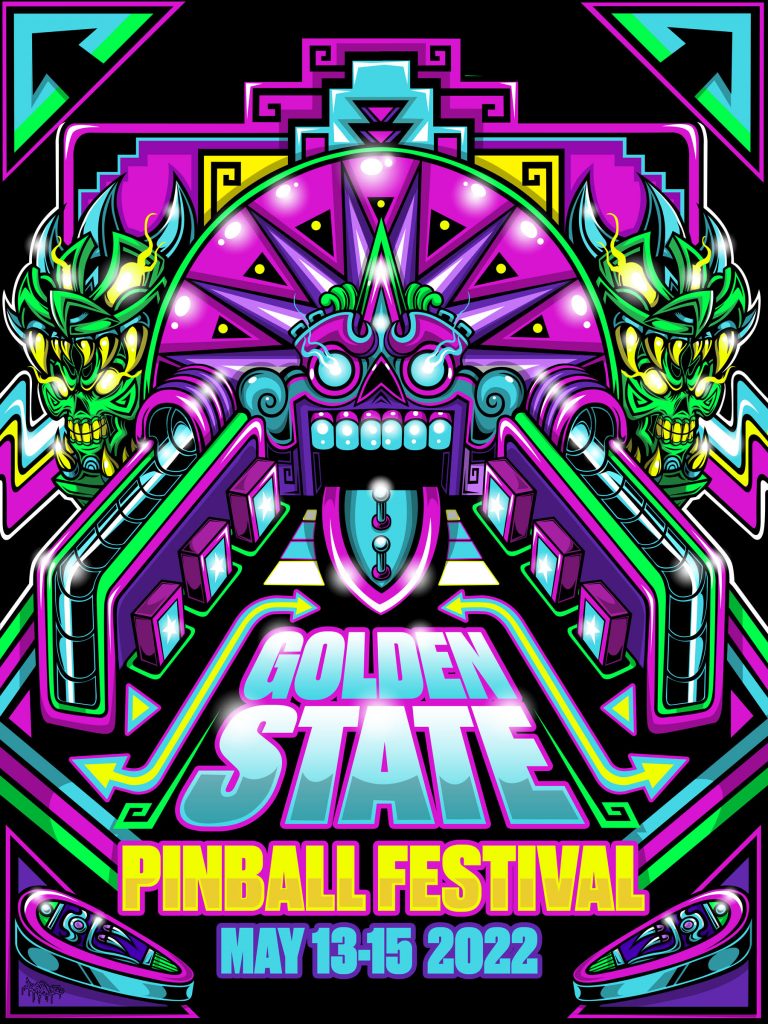 ---
2019
Second year, better than the first!
The second show under the Golden State Pinball Festival banner exceeded all expectation. Amazing artwork created by Dirty Donny just for our show, an expanded pro format pinball tournament, and an abundance of premier vendors made this a show to remember!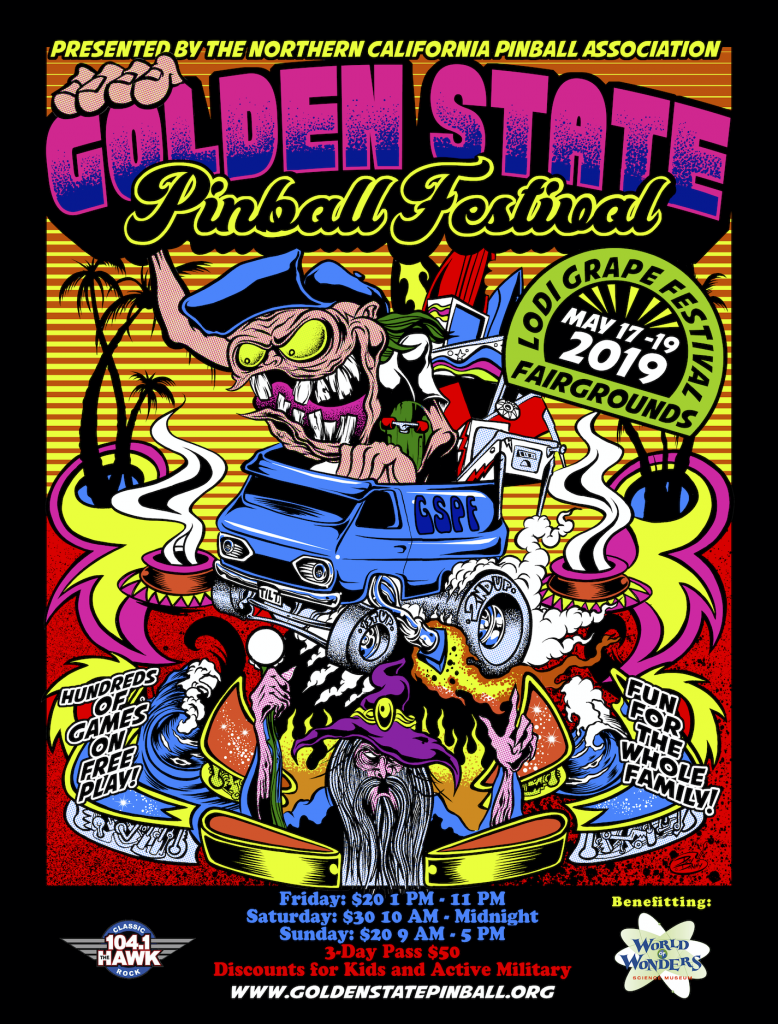 ---
2018
New Home a Home Run!
A big year as we host our 7th show AND introduce our new location in beautiful Lodi, California. In celebration of the new name and location, this year's theme was a nod to California's scenic beauty. We enjoyed a record turn out and record number of games as folks enjoyed three whole buildings to explore. Some of us wandered over to Pinball University in it's comfortable, dedicated new home and enjoyed a killer line up of guest speakers and hands on seminars. Marco brought us a record number of new Sterns and the whole community stepped up and we had everything from Alien to JJP's Pirates of the Caribbean to enjoy.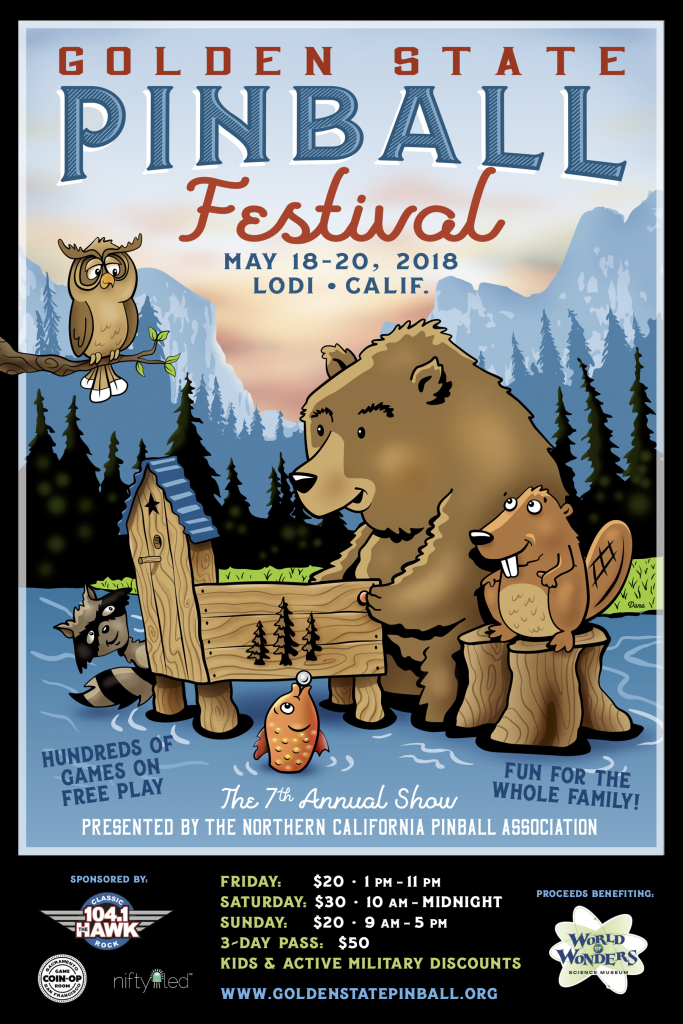 ---
2017
Aloha and Good-bye!
Tiki is the theme and Pinfolk have one of the best times ever at our final Dixon show! It takes a year of planning with the new venue but the upgrade to Lodi is worth it and we announce 2018 will be held in a bigger, better location with the same flavor! At first a few frowns- but we come to realize that no matter what you call this event, it's fun! Since the show is "the people, not the name," the good times, learning and camaraderie will ultimately move with it. Born is the "Golden State Pinball Festival."
As Mom-Nature brings temps this weekend all the way to 97, most participants are happy to learn the next show will be in cooler buildings. A bitter-sweet weekend as we honor our fallen PinBud Steve Charland, an asset to this community we will long remember and miss.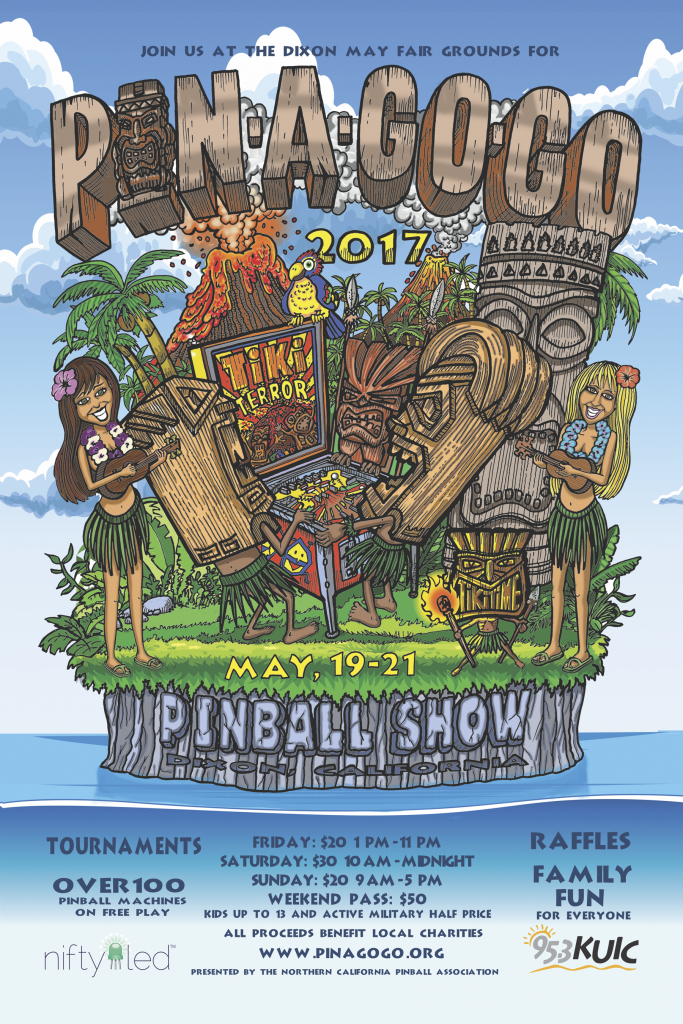 ---
2016
Yee-Haw Cowboy!
It's the 2016 Round-Up! This show was so crowded with people, games and vendors it was time for us to figure out whether to limit everything or find a bigger barn. Everyone seemed to have a great time as you can see by the photos. Jersey Jack with side-kick Butch Peel and Multimorphics's Gerry Stellenberg and crew round out the Pinlebrities on site. Thanks to Amanda and Art for the pics! Yee-Haw!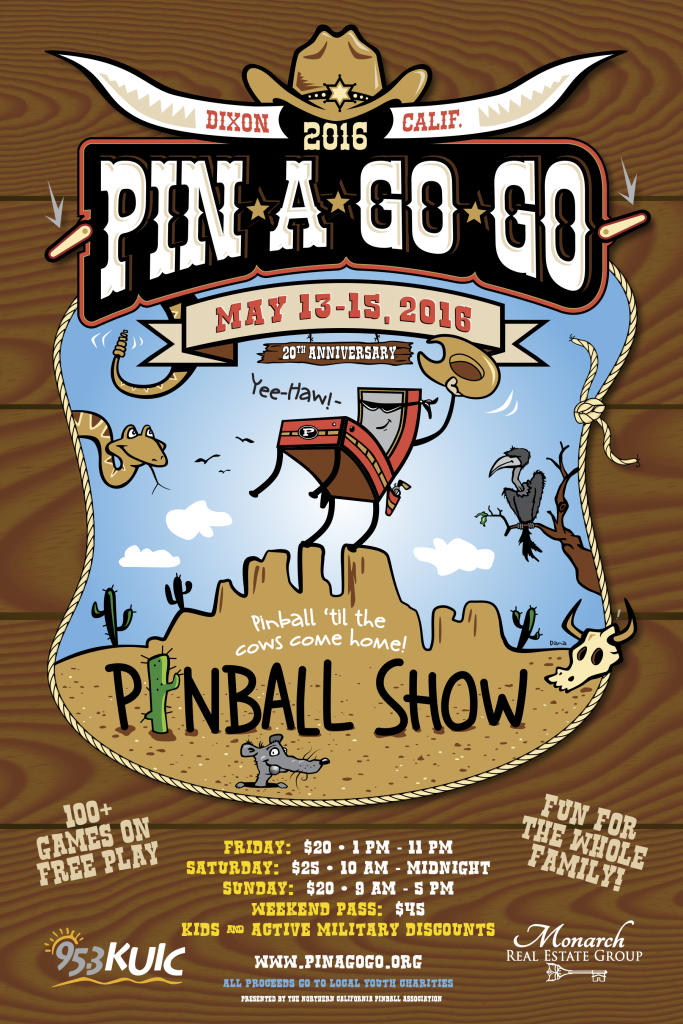 ---
2015
It's Outta This World!
Space is the theme and our "big family reunion" type show in Dixon gets a little bigger and a little busier and people say it's the best yet! Photos by Amanda. The Northern California Pinball Association hereby gives big thanks to Mr. Steve Dana, the talented artist who did our posters from 2011-2016.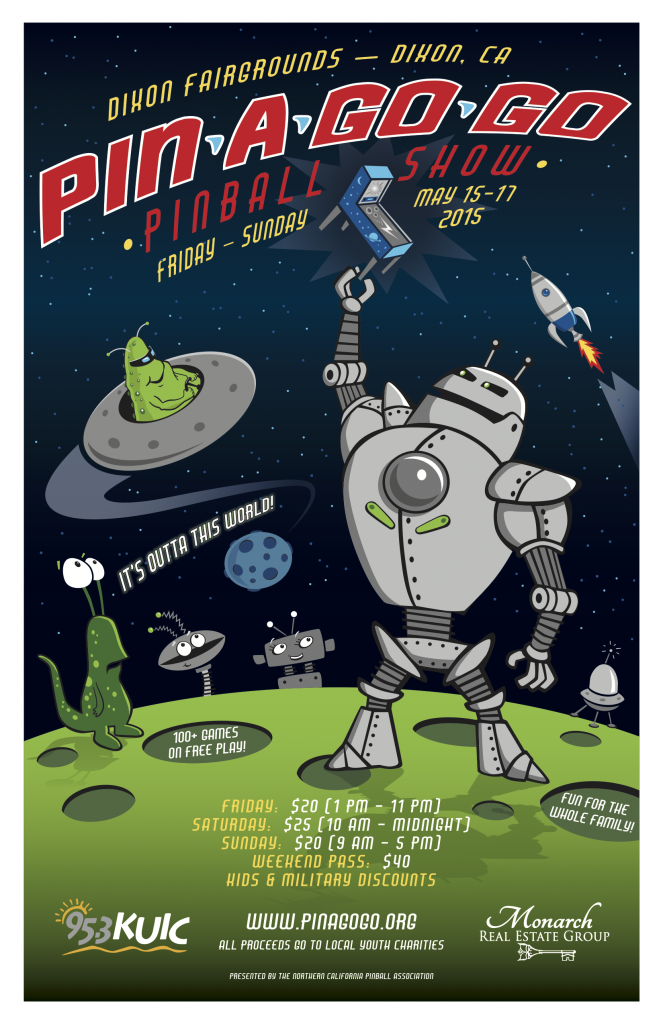 ---
2014
Peace, Love and Pinball!
In 2014 the Northern California Pinball Association brings you Peace, Love and Pinball in Dixon, CA. Photos by the very talented Gene "X" Hwang of Orange Photography, that bear witness "a splendid time was had by all!"
Steve Charland rounds up 7 rare "Spirit" machines while Pinlebrities Steve Ritchie, Greg Freres and Dirty Donny Gillies round out the program. More pins and more families are introduced to pinball while the Dixon Teen Center receives more proceeds than years before. Photos by Art, Amanda and Steve along with some other snapshot artists.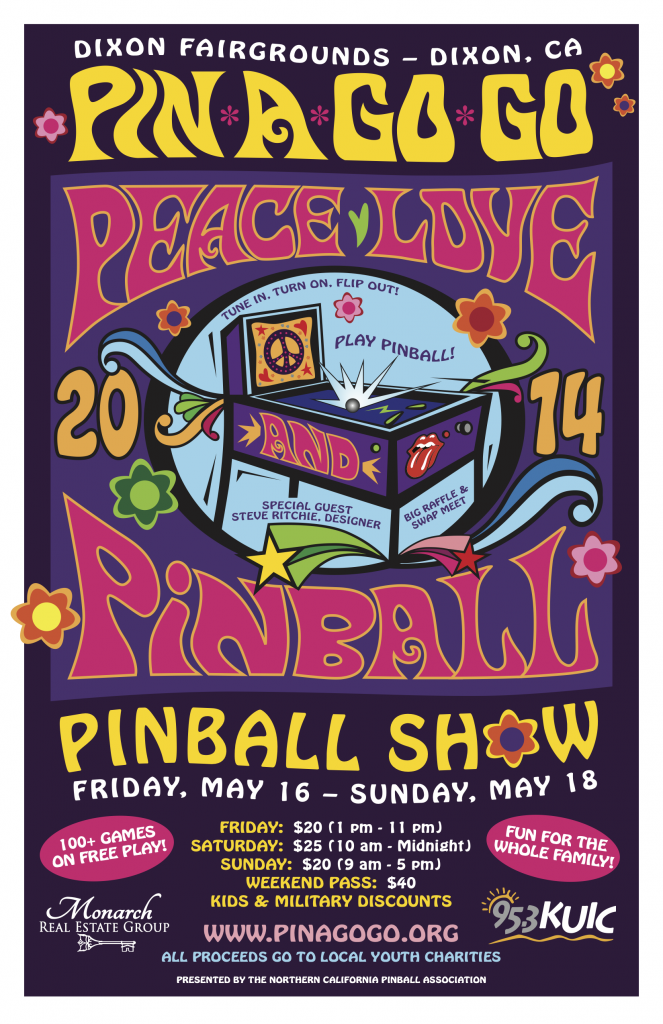 ---
2013
It's Flippin' Awesome!
The show grows up! Another building is added for the tournament and overflow of pinball so the historic "Electromechanical Room" can be presented once more in it's former glory. Photos by Art, Amanda and Steve along with some other snapshot artists.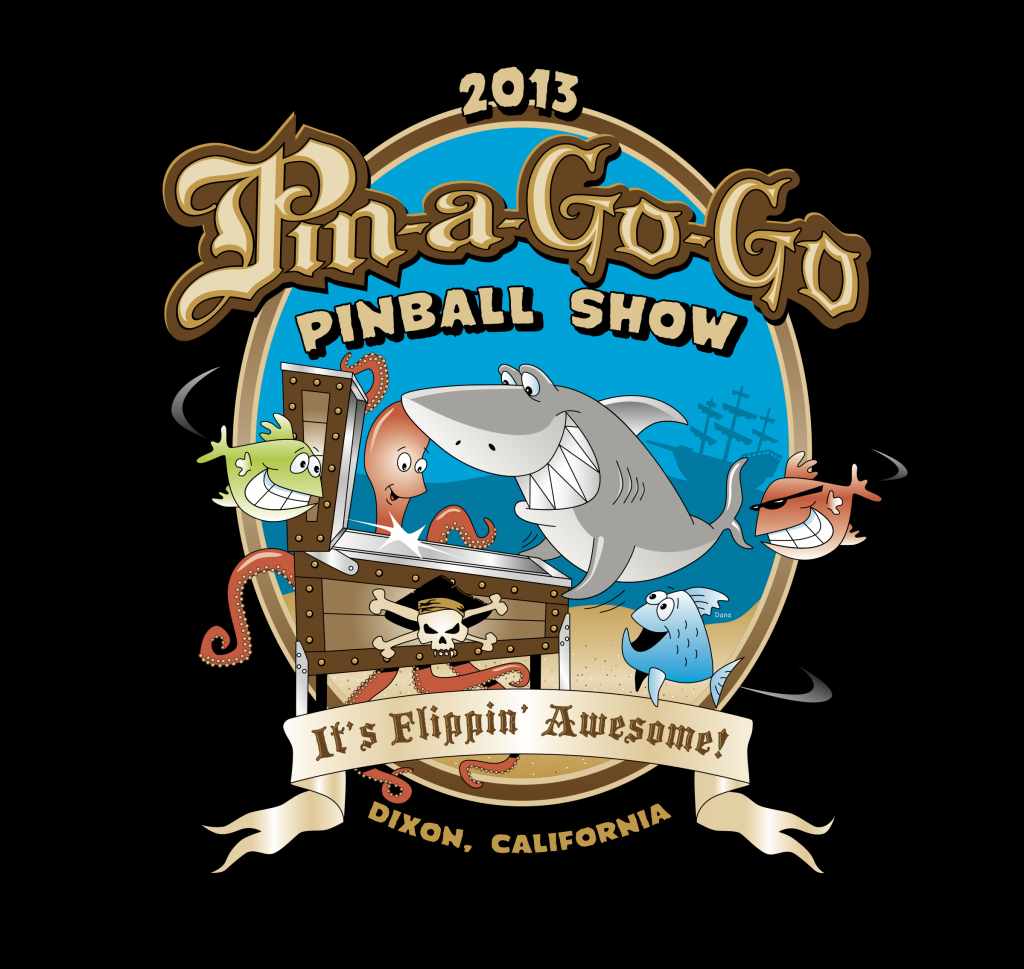 ---
2012
NCPA Takes Off!
In 2011 the historic Dixon show is passed on to a few members of the Sacramento Pinball Group. The Northern California Pinball Association (NCPA) is born and in 2012 we present our first show in Dixon, CA. Pinfolk rejoice and it seems everyone has a grand time! Photos by Art, Amanda and Steve along with some other snapshot artists.